We use cookies to give you the best experience on our website. If you continue to browse, then you agree to our
privacy policy
and
cookie policy
.


Why you need Syncfusion Flutter widgets
Syncfusion Flutter widgets are written natively in Dart to help you create rich, high-quality applications
for iOS, Android, Web, Windows, macOS and Linux from a single code base.
Fluid and flexible widgets
Syncfusion Flutter widgets and their elements are highly customizable and work with any layout widget. Their extensive feature sets and fluid animations are richer than any others offered on the market.
Built from scratch
The widgets in this package are written natively in Dart which provides several advantages, including a better developer experience when coding with our API in Dart, and the ability to port easily to desktop and web in the future.
Performance
Syncfusion Flutter widgets have been optimized for great performance even on modest hardware.
File-format libraries
Create powerful PDF files and Excel files from scratch in your Flutter apps using Flutter PDF library and Flutter Xlsio library .
Dedicated support
Truly unlimited dedicated support system via the public forum, feature & feedback page, live chat, and Direct-Trac.
Demos and training
A wide range of product demos and training, including video tutorials, documentation, and KB articles.
Hassle-free licensing
Simple, straightforward, and no hidden fees. Guaranteed.
Frequent updates
With a commitment to at least four major updates per year, Syncfusion ensures you will receive new features and widgets often. In addition, we frequently publish packages with bug fixes.
Most Popular Flutter Widgets
Get the Demo Application
Explore the full capabilities of our Flutter widgets on your device by installing our sample browser applications from the below app stores and view samples code in GitHub.
Syncfusion Flutter tutorials and blogs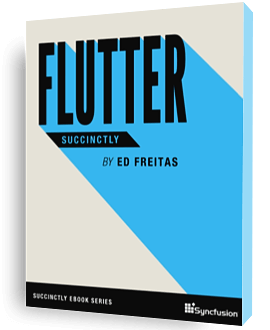 A quick guide to getting started with learning and improving your skills using Flutter technology.
Get your free ebook
Syncfusion Flutter Resources
What our customers are saying about us
"Syncfusion controls contain almost everything a developer could ask for, saving us time and money. All backed up by unmatched support. Syncfusion controls are a developer's dream come true."
Kevin Kerr, Kirk-Rudy
"I would highly recommend using Essential Studio and have found that the Syncfusion support team is one of the fastest I have worked with."
Georg Kukula, G&W Software Entwicklung GmbH
Flutter Widgets
Developer Platform
Unlimited Global License
Developer Platform
Essential Studio
$ 2,495
/developer 1st year

Unlimited Global License
Cover everyone in your organization for one low annual fee
CONTACT US
$ 995
/developer 1st year
SUPPORT
Dedicated Account Representative
Quarterly product releases
Support within 24 hours on all business days
Live chat support on all business days
LICENSING
Licensing Management Portal
Commercial Use
Max Developer count
1 per license
Coverage Period
1 year
Flutter Widgets
Developer Platform
Unlimited Global License
Curious? Try It for Free.
Your fully functional, 30-day evaluation begins with a simple click.
Awards
Greatness—it's one thing to say you have it, but it means more when others recognize it. Syncfusion is proud to hold the following industry awards.
Recent activities in Flutter tutorials and blogs
The Flutter tutorial videos and blog posts will guide you in creating your first app with the Flutter controls. They'll give you problem-solving ideas, describe features and their functionality, announce the new feature availability, explain Flutter controls best practices, and describe example scenarios using the Flutter controls. Check out our recent activity on our blog and tutorial video channels for Flutter.

12/08/2021 05:42:25 PM
Thu, 02 Dec 2021 17:00:00 UTC
12/02/2021 5:00:00 PM
Tue, 18 February 2020 15:00:00 UTC
Sun, 25 April 2021 23:59:00 UTC